Anyone who runs a business should have his finger on the pulse of his organization. Yet even the most devoted business owner or executive can't tend to the company around the clock. Things happen. Car accidents occur. People get sick. Employees go on strike. Potential disruptions are innumerable. This is precisely why a business continuity plan is so important. It will keep the business operating like a well-oiled ship until the crisis is resolved and operations return to normal.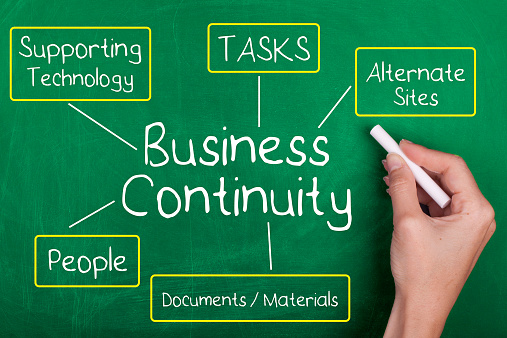 A Continuity Plan can Mean the Difference Between Bankruptcy and Success
If you have no idea what your business will do when disaster strikes, it is time to figure out a continuity plan. Businesses that fail to put such a plan in place often end up crippling under the pressure of an emergency or imposing challenge. Those who take the time and effort to build a foolproof business continuity plan will likely keep the company out of bankruptcy, stem the tide and eventually return to normalcy.
Uncovering Inefficiencies
Think of your business as a patient on an emergency room operating table. The body is under threat and you are attempting to figure out a way to keep it alive. Your priorities are clear: stay cash flow positive, bolster communication efforts and protect the staff as well as the business's operating facility. Each of these priorities is a metaphor for the human body. Cash flow represents the patient's blood. Communication is symbolic of oxygen. The staff and operating site represent the body's organs. It is up to you to implement a rock solid business continuity plan today to prevent death on the operating table in the midst of a life-threatening crisis.
A Business Continuity Plan can Even Boost Marketing
Once you invest the time, effort and money required to formulate a comprehensive business continuity plan, don't file it away and let it collect dust. Use it as a marketing tool. Potential clients and business partners who are aware of your company's continuity plan will be much more inclined to forge an alliance with your business.
Improve Staff Morale
The creation of a continuity plan should not be kept a secret within your organization. Rather, it should be publicized throughout your organization and flaunted to prospective clients / partners. Let your staff know that a plan is in place to keep the company in business should an emergency occur. The plan's existence will quell employee fears regarding the fate of the business in the event that death, sickness, an accident or other emergency occurs. If they feel as though a predetermined course of action is mapped out for emergencies, they will be much more inclined to stay with the company.
A Continuity Plan has the Potential to Reduce Your Company's Insurance Premiums
Team up with your company's founders, executives, managers and other important employees to build a flawless continuity plan and it just might convince your insurer to lower your premiums. Insurers really do respect thorough business continuity plans as they show an organization's commitment to mitigating risk. If you prove that your organization is doing everything in its power to reduce risk, there is a decent chance that your insurer might respond in kind by reducing your premiums.
An Invaluable Peace of Mind
One of the best reasons to develop a continuity plan is being able to rest easy knowing that your company can handle even the worst emergency. You will be able to sleep easily at night, content with the fact that a comprehensive series of procedures are in place to help your organization recover as quickly as possible.
Alvarez Technology Group, Inc. is the trusted choice when it comes to staying ahead of the latest information technology tips, tricks, and news. Contact us at (831) 753-7677 or send us an email at [email protected] for more information.