The best part of my day is when I get to talk to our clients. I enjoy talking to the people we work with as much as possible because it helps to build a lasting partnership. I welcome all feedback, good or bad, because I know it is important to listen to the people you serve. If they care enough to talk to us about how we can be better, you know they care about our success as well. This kind of effective communication creates a partnership wherein the client looks to us as part of their team, integral to their success and happiness. They communicate openly about their strategic goals for their business' future and see us as part of the plan to achieve those goals.
The reality is that most of our competition focuses on technology solely for the sake of technology. They don't see the bigger picture of their clients' business operations and they do those clients a disservice. Too often IT firms only care about their own needs, their own standards and not about their clients' needs. We're not like that at all; our clients don't get the same generic service that we offered when the Alvarez Technology Group was founded. We have had to adapt everyday; not only to new technologies, but also to changes in business models and the way our clients work as well. Think about the impact that Cloud Computing and the Mobile Workforce has had on the way businesses operate; just those two evolutionary changes in technology have forced us to re-evaluate our services and the way we deliver them to make our clients more agile and automated.
We're confident that we can meet any client's need with an effective IT solution. My goal is for our clients to be assured that we have their best interests at heart. We may stumble and we may make mistakes, but we will always make it right. This all comes down to trust, the foundation of any effective business partnership. We will earn that trust by delivering on our promises to ensure every client gets the peace of mind that they deserve.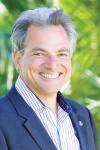 Luis Alvarez