Dear Friends,
Selecting an IT services partner is a foundational decision and one that is likely to cause ripples of impact throughout your organization for years to come. That decision bears tremendous weight in my mind, encouraging myself and the Alvarez Technology Group team to bring our very best to each engagement. We don't start conversations with a pitch. Instead, we take the time to listen to your needs, your goals, and your business objectives — and yes, your technical challenges! For the past 20 years, our team has been learning from and growing with our customers by providing proactive and trusted IT solutions. With that experience comes patience, knowledge, and a solid toolkit that offers flexible solutions to meet the needs of evolving businesses.
We Believe in Building Lasting Partnerships
There's a significant difference between a vendor that your company utilizes and a true partner for your business. A partner is willing to tell you the bad news as well as the good — and proactively help you find ways to overcome tough challenges. A partner is always looking to the future, creating recommendations that will help you strategically position for success over time. Our technical professionals want to be a part of the conversations around technology that permeate your business, communicating openly with your IT and business leaders to align IT solutions to achieve business goals and objectives.
We Focus on People, Not Technology
It may seem odd to hear that a technology company doesn't put technology first. Yes, it's an important aspect of what we do, but the most important component of our clients' success is ensuring that each company has access to the right people to support their unique needs. We know that introducing a cohesive technical solution is made possible by internal staff members and their willingness to adopt new technologies. With this focus on people, we are able to make recommendations that have the greatest possibility of success — instead of simply going with cookie-cutter recommendations that may not be the best fit for the culture of your company.
We Are Passionate About Effective Communication
Listening is one of the skills that we prize the most, and where I try to spend a good amount of my time. I listen to the technology community, to our clients, and to our staff — always looking for ways to help ensure we are as efficient and effective as possible. I explore new opportunities to deliver superior service, review updated technical specifications, and stay in tune with the cybersecurity landscape. Creating this focus on effective communication is part of what has made Alvarez Technology Group a trusted name in business technology for the past 20 years.
Education is Our Hallmark
From our weekly Tech Talk conversations on YouTube to blog posts helping you see what is coming down the pike for business and technology, we are committed to education for our staff and our community. How is this different from our competitors? Instead of simply sharing great updates about specific business technology solutions, we expand our reach to everything from self-driving cars to tax burdens — helping bring together a more comprehensive view of the technology landscape that will bring your understanding beyond the basics. Each topic that we introduce is something that piqued our interest, and we hope you feel the same!
As we move forward into the future together, you need to know that each client and staff member is an important component in our success. We are continually looking for new and creative ways to deliver on our promises — building on our foundation of trust with each interaction.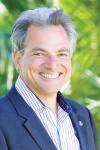 Luis Alvarez