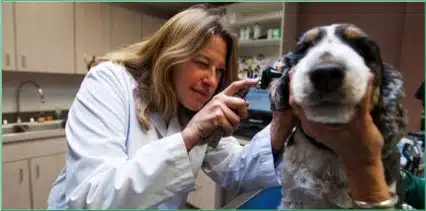 Carmel Valley Veterinary Hospital is a full-service veterinary practice. The vets focus on providing pets with the very best care possible. The facility includes emergency treatment and digital radiology equipment. Everything pets need from tests to surgery and treatment, and even acupuncture, is available at Carmel Valley Vet.
Phone System Costing Thousands in Lost Revenue
In search of a new phone system, Carmel Valley Vet bought a self-install kit that was setup for general use. The system was never fully configured for the office and they faced numerous problems. The office overhead paging system, entry alert system, and phone system were tied into the same channel, causing the phone to ding mid-call in unison with the overhead speakers. The phone system was not expandable, had problems with users on hold, and could not accommodate the call flow needs of the office.
The sister office in Salinas, Harden Ranch Veterinary Hospital, needed a phone system and it was clear that the self-install kit would not work for the office. In search for a solution that would better meet their needs, they turned to Alvarez Technology Group. We evaluated the Carmel office and found that the self-install system was insufficient for their operations. The office required a more complex, sophisticated, and customizable system with separate phone and internet traffic.
Finding the Perfect Solution
After discussing the options with Alvarez Technology Group, Carmel Valley Veterinary Hospital decided to address the system for Harden Ranch Veterinary Hospital first. The best option for the office was the Cisco UC560, which is an affordable unified communications appliance that provides voice and data communications, voicemail, automated attendant, video, security, and wireless capabilities while integrating with existing desktop applications such as email.
We customized the system with a multi-level auto attendant, multiple paging zones, and advanced call distribution. The project went off without a hitch. The Cisco software allows for basic administration by the office itself, minimizing the need for extra technical support. Once the project was complete, the system ran perfectly.
"My favorite aspect of the Cisco phone system is ease of use and simplicity.  Although it is quite sophisticated, it is very user friendly.  Also, I like dealing with local companies (support local economy!)."
– Richard Lookinghawk, Carmel Valley Veterinary Hospital
After a few months of flawless operation at Harden Ranch Vet, the Carmel office knew that they needed a similar system. We worked with Carmel Valley Vet's smaller office and budget and installed the Cisco UC320, a comparable system to the Cisco UC560 at Harden Ranch Vet.
Both Carmel Valley Veterinary Hospital and Harden Ranch Veterinary Hospital are now able to update the auto attendant, hold music, and call distribution themselves. This allows them to easily customize the phones to their changing needs. Both systems have consistent operation and clear, quality sound.
About Alvarez Technology Group
Alvarez Technology Group, Inc. has been in business since 2001 and provides world-class  technology solutions to small- and mid-sized businesses, including network management and 24×7 monitoring, the integration of computers and telephones, data security and backup, and expert IT consulting.  We empower our clients to grow their organizations with the right technology and smart systems management.
For more information, call us at (831) 753-7677 and visit us on the web at www.alvareztg.com.