Microsoft has released the official Preview download for its new app, Microsoft To-Do, and if you've been looking for a new organizational tool, it's well worth your attention.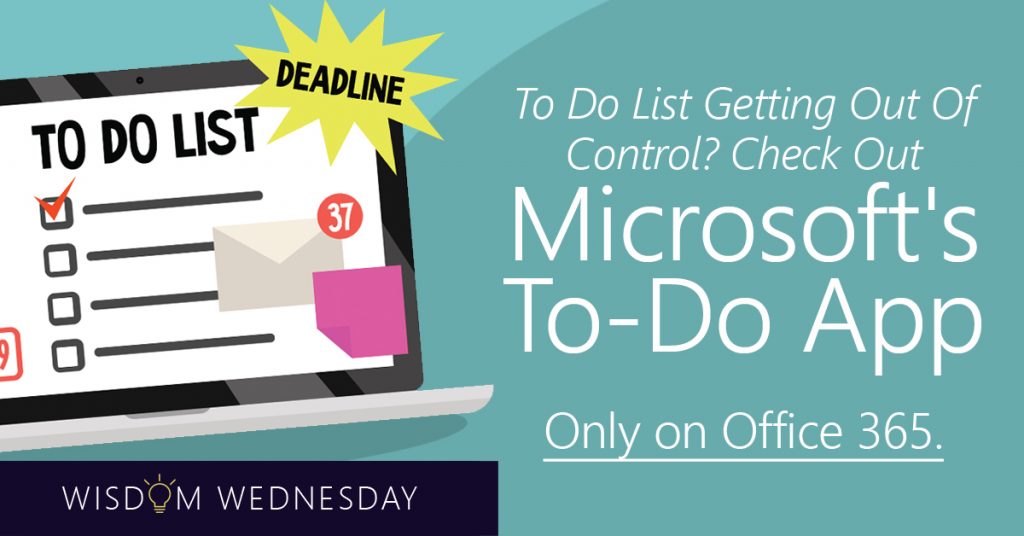 To-Do is immediately remarkable for two reasons. First, it was created by the creators of Wunderlist, arguably one of the best organization and list-making apps available. If you like the style of Wunderlist, or wish that Wunderlist was available in a format more tightly integrated with Windows 10, then To-Do is worth your time (Wunderlist itself will eventually be phased out in the coming years). Second, the app is available not only on Windows desktops, but also on iPhones, Android devices, and as a web tool, so access and syncing shouldn't be a problem for any employees.
Curious to learn more? Let's look at the top features of To-Do and how you can use them!
Creating Lists
Unsurprisingly, To-do centers on creating lists – lists that can be used for just about everything, from business tasks to groceries. Each list you make has several different options for customization. You can add a due date to a list, create a reminder for a particular list, and apply color themes to separate lists into quick categories, as well as labels to separate lists out more specifically. Each list item can also be further separate down in "work" or "family," etc. if you are making a daily list.
The interface is particularly clean and effective, with a basic check-off system that crosses out the list item when you tap a checkmark beside it. In addition to color, there is also a small amount of customization available for backgrounds, although most of the app remains a clean white.
Get Intelligent Suggestions
Do struggle with keeping track of the lists that you make, either in personal life or at your job? To-Do includes "Intelligent Suggestions" via a lightbulb that's designed to make the process easier. This option lets you see uncompleted tasks from yesterday and what appear to be the most important tasks facing you today, immediately creating a "today" list of top priorities, which can be incredibly helpful when getting organized – especially if you often find your mornings too busy to sit down and go over your list items personally. If you see any items that you'd like to ignore, you can check them off or quickly port the important items into a My Day list for immediate work.
Working with Microsoft Products
To-Do is designed to work on the Office 365 platform: Fortunately, 365 is not required to make use of To-Do, but To-Do can certainly take advantage of 365 by pulling information from the platform and using 365 encryption to product data when you are moving it between lists.
If you don't use 365 but you do depend on Outlook, the good news is that To-Do also borrows tasks from Outlook and will sync tasks to To-Do without trouble, allowing you to switch smoothly from Outlook Tasks to the To-Do tool.
Search, Share and Sort
Looking for a particular list item but not sure where it is? To-Do comes with a search function so you can look for lost list items, as well as quick sorting functions for rapid organization options. IT's also important to remember that To-Do is still a very new app, which means that additional features are on their way in the future, including the ability to share lists with other people. Expect more functionality as time goes on!
To-Do is only one of the ways Microsoft is improving security and Office capabilities. If you want more information on how such tools can help your SALINAS business and data security, contact Alvarez Technology Group, Inc. at (831) 753-7677 or [email protected] for cutting edge IT solutions that get your business where it needs to be.