Scam phone calls are not a new thing, but scammers are getting bolder and more sophisticated. In 2010, more than 84,000 people reported phone-related scams to the Federal Trade Commission (FTC).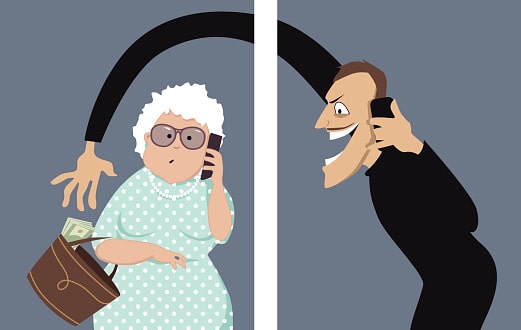 Scammers can spoof phone numbers pretending to be from your local area code, or even a number that you know. They can call you and it would look like your mom or your brother is calling, and you wouldn't know the difference until you picked it up. If you even noticed it then. Many times, the scammer will call pretending to be your child, your spouse, or other family member and speak very fast as if they are in a hurry and need your information now.
If a scammer called your mother and spoofed your number so that she thought you were calling, would she know it wasn't you if the caller was speaking fast and in a panic?
According to Ajit Pai, Chairman of the FCC, they are empowering phone companies to block robocalls that appear to be spoofed with no real legitimate purpose, they are taking aggressive action against robocallers, and they are working with the industry to find better technological solutions to help guard against these fake calls.
You can see the NBC report here: https://www.nbcnews.com/nightly-news/video/how-scammers-are-using-familiar-phone-numbers-to-steal-information-1103219267761
Apps such as Mr. Number and TrueCaller can help you determine the difference between spoofed and non-spoofed calls.
TrueCaller works as a caller-ID app, albeit a beefed-up, superpowered one. It tells you who the caller is, where they are from, and who they might be. It prevents calls from telemarketers and spam callers. It pulls the numbers and contact info from its users so all the numbers stored in your contacts will end up in the TrueCaller database. Currently, this database is home to two and a half billion contacts.
With Mr. Number, you can narrow down to specifics in the settings menu, opting to block texts from those users on the block lists or not block them. You can also block specific phone numbers, entire area codes, unknown (as in, blocked) numbers, numbers not in your contacts, all the numbers in your contacts, or every number in your contacts. You can also opt to block calls you suspect as spam which can be reviewed later or phone numbers from your recent call list.
We've put together some tips for dealing with a possible scam or spoofed phone calls. The hardest part is knowing whether or not the phone call you just got from your brother was really him, or some scammer that spoofed his number.
Don't Give Them Anything. These scammers are hunting for information. The best thing you can do is to tell them nothing. This means don't confirm your name if your spouse is home…nothing. Hang up and don't give them anything. Any bit of information that you give them could be used to separate you from your money or identity.
Don't Call Me. If some organization, charity, or group calls you uninvited, they probably aren't who they say they are. Even if your caller ID looks legit, it might not be. Caller ID spoofing is becoming more common. Rely instead on your instincts. If it feels wrong, it probably is.
I'll Call You. If the caller is insisting that they speak with you right away, tell them that you will call them back directly. At that point, some scammers will offer you a phone number as a way to verify they are who they say they are. Don't call this number. You are better off looking up the number yourself, or, if it's a company you have done business with before like a utility company, call the number on the monthly bill.
Keep Alert. Even if you are the one initiating the call, you could still be at risk. If it's a company that you don't know, before talking with them you should do some homework. Look them up with the Better Business Bureau, look at their website, and research them online. You can even ask them to mail you some information. If they are legit, they know where to send it.
Don't Be Rushed. The scammer might try to hurry you into making a decision. This is most often employed by scammers who are spoofing a number that you know. Don't let them rush you into giving up vital information. This is how they get you to slip up and give them what they want.
Help Be Part of the Solution. If you've received a call that you suspect to be a scam, report it to the Federal Trade Commission (FTC) at 877-FTC-HELP (877-382-4357). If you don't report it, someone else may fall victim to the scammer.