Security vulnerabilities are no joke, especially in the healthcare industry.
See how keeping patches and security measures up-to-date will protect your patient data, and your organization's future.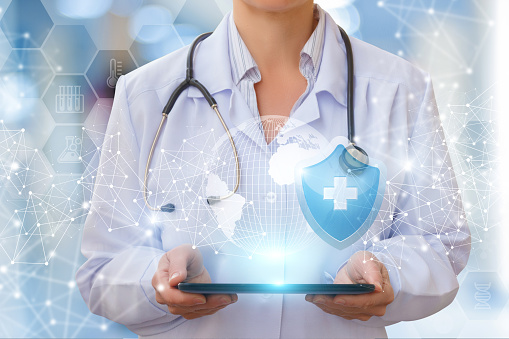 Healthcare poses a unique challenge for cybersecurity professionals, with some of the largest threats in recent history coming from ransomware attacks. With billions of dollars lost each year in data breaches, healthcare organizations have a lot to lose if personal data is breached.
Hospitals, in particular, are vulnerable (as proven by the May 2017 global ransomware attack tied to a National Security Agency leaked exploit). The hospitals that hadn't installed a critical Microsoft patch were susceptible to the hack.  This could have been prevented by ensuring all maintenance tasks were up-to-date.  
Healthcare Cybersecurity Threats Are Increasing!
As the IoT (Internet of Things) expands into the healthcare realm, security becomes an even bigger challenge for healthcare IT administrators. The cyber threat landscape continues to evolve, making it even more difficult to predict where attacks will come from in the future.
The widespread use of healthcare-related devices such as heart monitors, mobile phones, and other mobile-ready devices provides a "playground" for individuals looking to hack corporate healthcare networks. The fast-paced adoption of digital health records continues to provide challenges to IT leaders due to the lack of interoperability between systems.
Fortunately, IT managed services firms like Alvarez Technology Group, Inc. offer a way for understaffed hospitals, healthcare providers and networks to leverage additional support to ensure that the "guardrails" remain strong, and threats are minimized.
Your Employees Are Your First Line of Defense.
Without extensive cybersecurity training, most employees won't understand the potential severity of their actions. IT professionals should constantly be on the lookout for opportunities to preach IT hygiene with users, including the practice of limiting orphaned or untracked devices.
There are plenty of headlines around cyber security threats from malware and hacking. And phishing is on the rise again as employees are targeted, being the weakest link in the security chain.
New staff members who aren't familiar with security requirements, both physical and digital, may not be taking the necessary steps to ensure workstations are fully secured before stepping away. Passwords may be less-secure than administrators would like, and the fast-paced environment may lead to skipped steps.
Much of the work to educate employees about cybersecurity is left to business-level leaders who may not understand the full impact of the requirements themselves. This is why it's imperative that IT security training is done by experts like those at Alvarez Technology Group, Inc..   
Improving Breach Response and Blocking Attacks with A Proper Defense.
A proper defense involves:
A diligent attitude about applying server and software patches. This can substantially limit the ability of hackers to gain digital entrance to your organization. While time-consuming to manage, keeping Windows and other critical patches updated can stop many widespread attacks. Microsoft provides immediate access to updates that are known vulnerabilities to help keep organizations safe. Take advantage of them.
Penetration testing by IT experts with technical testing, and replace or refresh end-of-life platforms with options that can be more secure.
The use of sophisticated detection software, as zero-day attacks, are likely to become more common and the overall sophistication of hackers will increase. Advanced anti-virus and malware detection solutions are critical, as well as upgrades to next-generation firewalls.
Controlling access to critical information. This provides hospitals and other healthcare organizations with a way to reduce the opportunity for social engineering or phishing hacks to occur. Personally identifiable healthcare information, also known as PHI, can be sold for as much as $50 per record on the open market, making it an exceptionally valuable target for hackers.
A need-to-know policy. If employees only have access to information that they need to do their jobs, then there's less of a chance they'll be able to inadvertently provide access to unauthorized parties. Limiting privileges at all levels of the hospital administration provides an intermediate step that helps manage support requests and reduce the number of potential breach incidents that happen on an ongoing basis.
Advanced tools to combat advanced threats. Attacks today can be focused on DNS servers, where hackers have the ability to knock out an entire range of systems in one fell swoop: email engines, web-based services and more. The level of disruption caused by this type of attack can be difficult to return from and causes a serious distraction from crucial patient care. The new AI (artificial intelligence) options, as well as behavioral analytics, are one way that organizations can help manage the potential threats through quick attention to any breaches.
The recent Equifax hack clearly demonstrates the importance of quickly rolling out security fixes, and ensuring that all patches are up-to-date. If the Equifax team had simply applied a security patch, it's unlikely that the hack would have been successful–saving the company millions of dollars in remediation, notifications and lost business.
Let the security professionals at Alvarez Technology Group, Inc. complete a full review of your potential vulnerabilities and create a plan for remediation.  We'll bring the security practices in your organization to a high level of preparedness. Our ongoing support will assist your organization to maintain critical patches and quickly discover any potential breaches so you can take immediate action.
Contact Alvarez Technology Group, Inc. today at (831) 753-7677 or [email protected] to learn more.