Alvarez Technology Group is pleased to remind you that the 12th annual Employment Law & Leadership conference takes place on Thursday, January 21st, 2016 at the Embassy Suites in Monterey Bay from 8:00 am – 4:00 pm. This conference is an integral event for those looking to learn about the latest labor and employment law twists and turns. You'll have the chance to receive:
Information on the latest changes to laws that impact every business owner
Advice on how to keep employment practices in compliance for the new year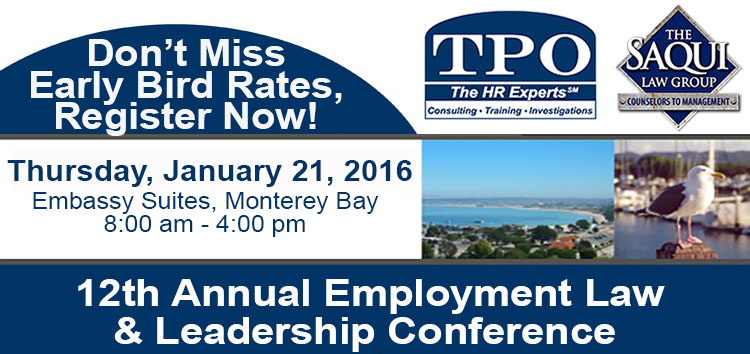 It's an event you truly can't afford to miss. The cost of noncompliance is steep and you don't want to go into the new year struggling to balance legal and HR perspectives, avoid unintended pay discrimination, and other major mistakes that leave you riddled in debt due to noncompliance.
Register here and use the code: ATG for our discount rate of $249. A very small price to pay when you consider the cost of noncompliance. But hurry – the discount rate is only available until January 1st, 2016; after which the cost goes up.