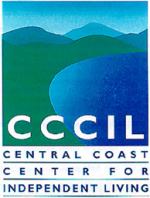 When most people hear the term "non-profit organization" they think of an organization that is delivering services to the needy or supporting a cause.  They rarely think of technological innovation.  In fact, many non-profits view information technology costs as a burden and struggle to make do with what they have for as long as possible.  However, a few non-profit agencies understand the power of IT and the value of investing in a solid technology infrastructure.  The Central Coast Center for Independent Living (CCCIL) is one of those agencies.
CCCIL is dedicated to promoting the independence of people with disabilities by supporting their equal and full participation in community life.  They need to stretch their limited resources to help as many people as they can, which means maximizing their IT infrastructure to make sure it's dependable.  Elsa Quezada, CCCIL's executive director, believes that investing in IT isn't an option, it's a critical game changer that enables the organization to enhance its mission to provide advocacy, education and support to all people with disabilities, their families and our community.
A complete network refresh and migration to Microsoft Windows 7 and Office 2007 provided the staff with the vital tools they needed to serve their clients.  Productivity went up after the new systems were installed, allowing them to do more work in the same amount of time.  As the only organization on the Central Coast that provides services for people with all forms of disability, regardless of income status, funding was tight. But the executive director worked with the team at Alvarez Technology Group to find the right solution to fit the organization's budget.  Using some donated software from TechSoup and special non-profit pricing negotiated on the non-profit's behalf by ATG for the remaining software and hardware, CCCIL was able to upgrade to a state-of-the-art network.
While some non-profit leaders are willing to make do with what they have and hope that all goes well, Elsa Quezada knew that the investment in technology would more than pay for itself almost immediately.  She continues to believe in the value of a modern office equipped with the best IT available.